Real Life Client Reviews for LifeWave
X39™ Patches

My skin looks much younger and healthier
I have noticed after I have been using X39™ for 2-3 weeks my skin looks much younger, healthier, and shines 24/7 with or without makeup. I am so excited, thank you for this discovery!
~ Betty Aslanis
The effect is almost a miracle!
I hurt my lower back, which also caused pain in one leg. It's the most painful experience I've ever had. For the past several months I've had cortisone injections and physical therapy which have helped somewhat although I still was unable to walk normally. As soon as I started using the X39™ the pain went down almost immediately, and I was able to walk again without limping. I don't want to exaggerate but the effect is almost a miracle!
~ Lily
I feel more focused, energetic, and youthful
Having had back pain for over 20 years and using cortisone shots with osteoporosis side effects, I got introduced to LifeWave in June 2017. LifeWave changed my life towards a healthy and wealthy life. No more back pain or any other type of problems. I was very happy with the LifeWave patches before I got introduced to the X39™. After 1 week I feel more focused, energetic, and youthful using it.
~ Farrah Bahamin
After 9 months of pain, back at the gym
Shelley, my wife has gone to the gym, lifted, yoga, aerobics, and a serious cyclist for the last 20 years or more. About 9 months ago she got hip bursitis and had to totally stop. She was in serious pain. We tried everything. After beginning to wear the X39™ patches, she didn't notice the results as quickly as I did, but slowly she started noticing that she was in less pain. She now has started back at the gym and is very excited about how this has changed her life for the better. Shelly and I will never stop using X39™!
~ Dave Cox
My recovery times after training have been phenomenal
After using X39™ for a month I can honestly say without a doubt that it works! I'm a competitive cyclist as well as a busy husband and dad that works every day. Ever since I started using X39™ I've been less tired with higher mental awareness with less physical and mental fatigue. My recovery times after training have been nothing short of phenomenal. With a faster recovery time, I'm able to push 100% the next day.
~ Shane
I am sleeping even better
I have more sustained energy during the day, and I am sleeping even better at night. I didn't think I could sleep better given the fact that I wear Alavida, but I am sleeping even better. Thank you for this truly awesome new patch!
~ Rhonda Walker
The testimonials above are from actual LifeWave customers who are benefiting from wearing the X39™ patch on a consistent basis. To experience benefits like those above, try a 90-day risk-free trial of X39™ patches. There's no obligation. Click on the button below and you can be on the road to vigor and wellness.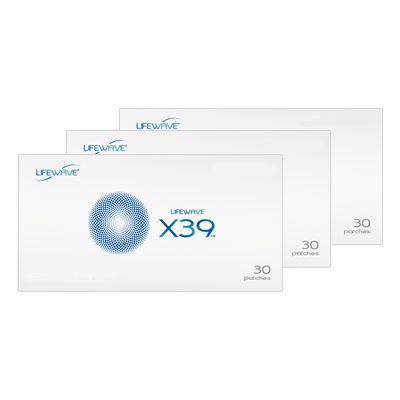 One sleeve contains a 30-day supply!